---
Thursday, February 22, 2018

welcome page
»
economy
---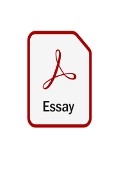 download size:
approx. 214 kb
Fred E. Foldvary
Ein neues Konzept - Mason Gaffney, der ultimative Heterodoxe
27 pages · 4.36 EUR
(April 2017)
I agree with the terms and conditions, especially point 10 (only private use, no transmission to third party) and accept that my order cannot be revoked.

Der Autor würdigt die Lebensleistung von Mason Gaaney und krtisiert die Neoklassik ebenso wie die verschiedenen heterodoxen Ansätze, die allesamt Boden und Bodenrente aus ihrer ökonomischen Analyse ausklammern und daher in zentralen Punkten in die Irre gehen.
---
quotable essay from ...

the author
PhD Fred Foldvary

lehrt an der San Jose State University, California. Er erhielt seinen Ph.D.-Titel von der George Mason University. Er ist bekannt für seine Forschung über community associations; zudem sagte er zutreffend die Rezession in 2008 und in 1997 voraus. Seine wöchentliche Kolumne erscheint in The Progress Report Wichtige Büchern sind Soul of Liberty (1980), Public Goods and Private Communities (1994).
---