---
Thursday, December 14, 2017

welcome page
---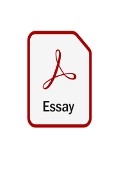 download size:
approx. 238 kb
Lieske Voget-Kleschin, Leonie Bossert, Konrad Ott
Einleitung
20 pages · 3.47 EUR
(August 2014)
I agree with the terms and conditions, especially point 10 (only private use, no transmission to third party) and accept that my order cannot be revoked.

Nachhaltige Lebensstile erfordern konkretes und bewusstes Handeln auf politischer, wirtschaftlicher, gesellschaftlicher und privater Ebene. Ein wichtiges Handlungsfeld stellt Ernährung dar. Der Frage, wie ich mich ernähre, kann sich niemand von uns entziehen, denn essen muss jeder Mensch. Die meisten Menschen sehen ihre eigene Ernährung als Teil der persönlichen Lebensführung, über die sie selbst entscheiden wollen. Gleichzeitig jedoch hat die Art und Weise, wie wir uns ernähren, vielfältige und weitreichende Auswirkungen auf uns selbst und unsere Mit- und Umwelt. In diesem Sinne sind Fragen der Ernährung gleichzeitig auch gesellschaftliche und gesellschaftspolitische Fragen. Diese gesellschaftspolitische Relevanz zeigt sich auch im Konsum tierischer Produkte: Wie viel Fleisch, aber auch wie viele Molkerei-Produkte und Eier wir essen, bestimmt, wie wir Tiere real halten (können) und hat damit komplexe Auswirkungen auf Natur- und Klimaschutz, das Welternährungsproblem, das Wohlergehen von Tieren und nicht zuletzt auch auf unsere eigene Gesundheit.
---
quotable essay from ...

the authors
Prof. Dr. Konrad Ott

seit 1997 Professor für Umweltethik an der Universität Greifswald. Seit 2000 Mitglied des Rates von Sachverständigen für Umweltfragen.
[more titles]
Dr. Lieske Voget-Kleschin

ist wissenschaftliche Mitarbeiterin am Lehrstuhl für Philosophie und Ethik der Umwelt an der Christian Albrechts Universität zu Kiel.
[more titles]
Leonie Bossert

Dipl.-LaÖk, Sept. 2013 bis April 2014 wissenschaftliche Mitarbeiterin am Lehrstuhl Philosophie und Ethik der Umwelt der Universität Kiel. Seit Oktober 2013 Mitglied der Nachwuchsforschungsgruppe "Wissenschaftsethik der Forschung für Nachhaltige Entwicklung" am Internationalen Zentrum für Ethik in den Wissenschaften (IZEW) der Universität Tübingen. Promotionsstipendiatin der Heinrich-Böll-Stiftung zum Thema "Tierethik und Nachhaltigkeit".
[more titles]
---