---
Friday, February 23, 2018

welcome page
»
environment
»
sustainability & intergenerational justice
---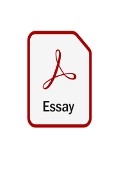 download size:
approx. 156 kb
Silke Gabbert and Hans-Peter Weikard
Precaution, essential resources and basic individual rights: the case of the European chemicals policy
21 pages · 4.22 EUR
(October 2009)
I agree with the terms and conditions, especially point 10 (only private use, no transmission to third party) and accept that my order cannot be revoked.

In this paper Silke Gabbert and Hans-Peter Weikard deal with different interpretations of the precautionary principle from the perspective of decision theory. It is included in this section because the weak and strong sustainability concepts sometimes contain hidden assumptions regarding risks and implications of the precautionary principle. Gabbert and Weikard analyse four prominent approaches to precautionary decisions-making. They notice that those approaches share a welfaristic basis which implies that current benefits and future risks are traded off against each other. However, the people who will live in the future are individuals with equal basic rights. Their lives and health cannot be put at risk for the sake of current benefits, not even for the sake of future benefits. Fundamental decisions about which risks to take should be left to each individual, or – if a collective decision is assumed – to each generation. In this perspective a precautionary policy recommends a low growth and a low vulnerability system over a high growth and high vulnerability system. This seems to strengthen Ott's claim for strong sustainability.
---
quotable essay from ...

the authors
Dr. Hans-Peter Weikard
Associate Professor für Umweltökonomik an der Universität Wageningen, Niederlande. Arbeitsschwerpunkte: Normative Ökonomik, insbesondere Allokation und Verteilung natürlicher Ressourcen, Armut, Hunger und soziale Sicherung, sowie Theorie kollektiver Entscheidungen.
[more titles]
Silke Gabbert

Senior Researcher at Wageningen University affiliated with the Department of Social Sciences. Her main area of research is risk assessment and risk management in various domains such as environmental and health risks, and food security. She has published in Environmental Monitoring and Assessment, Food Policy, and The Quarterly Journal of International Agriculture among others.
---