---
Wednesday, February 21, 2018

welcome page
»
policy
»
parties
---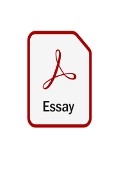 download size:
approx. 266 kb
Herbert Hönigsberger
Sozialdemokratischer Krisendiskurs und marktwirtschaftlicher Pragmatismus
17 pages · 2.81 EUR
(May 2009)
I agree with the terms and conditions, especially point 10 (only private use, no transmission to third party) and accept that my order cannot be revoked.
---
quotable essay from ...

the author
Herbert Hönigsberger
Jg. 1948, Sozialwissenschaftler, Politikberater, Publizist, IST - Gesellschaft für angewandte Sozialwissenschaft und Statistik GmbH, Berlin / Heidelberg / Ebertsheim; Lehrbeauftragter für Politikberatung (Universität Heidelberg). Forschungsschwerpunkte: Wissensmanagement, Wissensgesellschaft, Strukturen der Politikberatung, Bildungspolitik, Hochschulfinanzierung.
[more titles]
---